VTAVTA 12.5cm 21g 6 Segments Wobbler Fishing Lure Pike Wobblers Crankbaits Artificial Bait Hard Bass Fishing Tackle Lures
Product Details:
Brand: VTAVTA
Lure Type: 6-segement multi-jointed artificial fishing baits with 2 treble hooks,S-swim motion at any speed
Lure Weight: 21.5g/piece
Lure Length: 12.5cm/Piece
Features:
*ABS material outside which is avirulent and odorless, environmentally friendly.
*Metal material inside which has a great effect of gravity.
*Suitable for various aquatoriums.
*It creates life-like swimming actions in water and attracts predator to bite.
*Colorful lures to entice big strikes.
*They create life-like swimming actions in water.
*3D eyes keep it look as realistic as natural live baits.
*Meet all your expentation for different color, size and catching different fishes.
HELLO OCTOBER

MULTI JOINTED BODY - The body pieces connect with textile fabrics allows this lures wiggles to side to side like a real fish would swim.
HELLO OCTOBER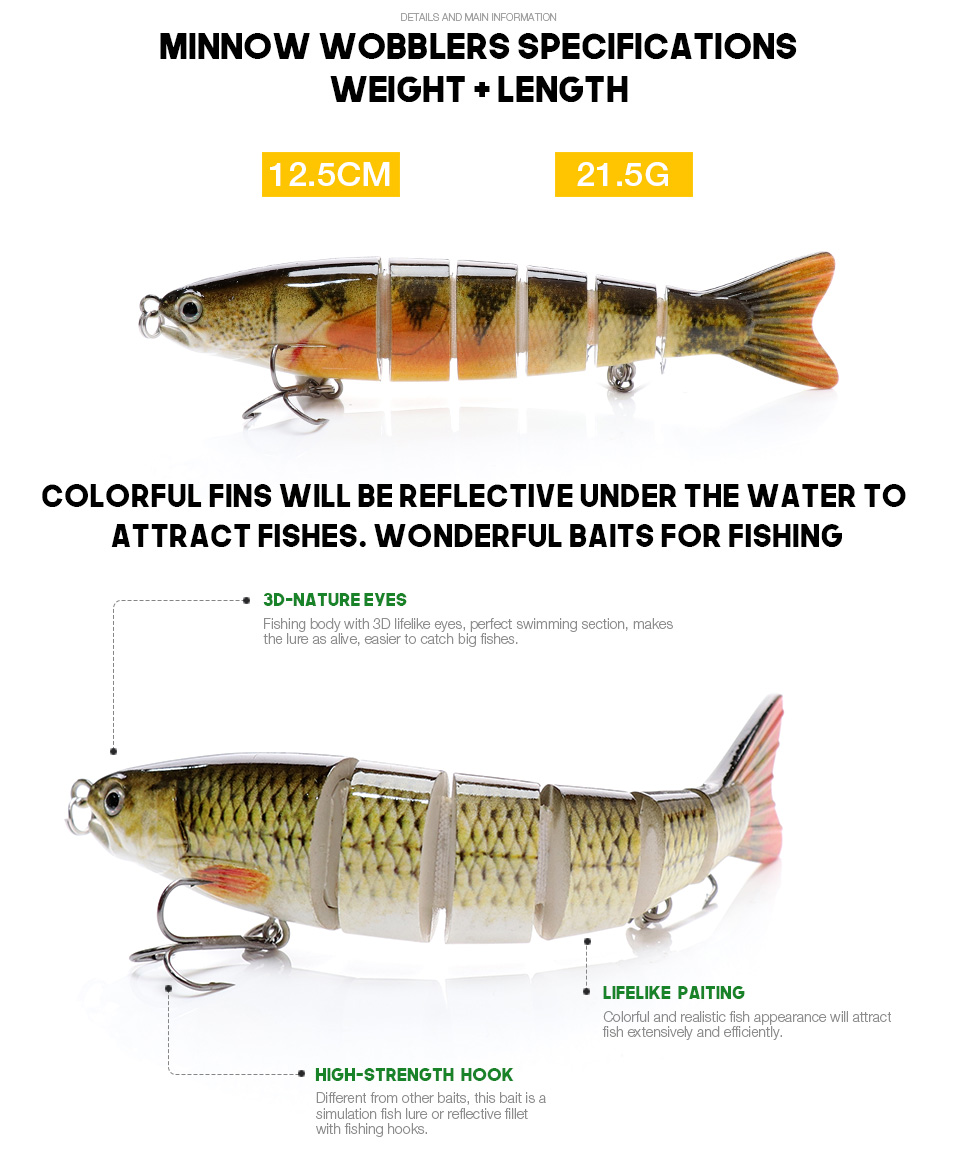 1)PIKE/BASS FISHING LURE - 3D realistic looking eyes and body make it a life like fish.
2)ARTIFICIAL SOLID SWIMBAIT - Reusable environment protective large mouth crankbaits. Different colors and patterns to match any fishing environment.
3)BUILT-IN GRAVITY BALL - Raise the throw distance, produce sound attracts the big predators. Streamlined Design reduces wind resistance during throwing.
4)Wonderful fishing accessories for fishing lovers.Great for fishing bass, yellow perch, walleye, pike, muskie, carp, roach, trout, etc.