VTAVTA 76mm 13g Fishing Lures Bass/pike Wobblers 6 Multi Jointed Hard Artificial Bait Swimbiat Crankbaits Fishing Tackle Lure
Product Details:
Length: 7.6cm/2.99in
Weight: 13.3g/0.47oz
Diving depth: Top water
Hook: Sharp hook
Material: ABS Plastic,Steel Wire,3D Eyes
Package List:
1 * Swimbait Fishing Lure
Product Features:
1.PIKE/BASS FISHING LURE - 3D realistic looking eyes and body make it a life like fish.
2.MULTI JOINTED BODY - The body pieces connect with textile fabrics allows this lures wiggles to side to side like a real fish would swim.
3.ARTIFICIAL SOLID SWIMBAIT - Reusable environment protective large mouth crankbaits. Different colors and patterns to match any fishing environment.
4.BUILT-IN GRAVITY BALL - Raise the throw distance, produce sound attracts the big predators. Streamlined Design reduces wind resistance during throwing.
5.Wonderful fishing accessories for fishing lovers.Great for fishing bass, yellow perch, walleye, pike, muskie, carp, roach, trout, etc.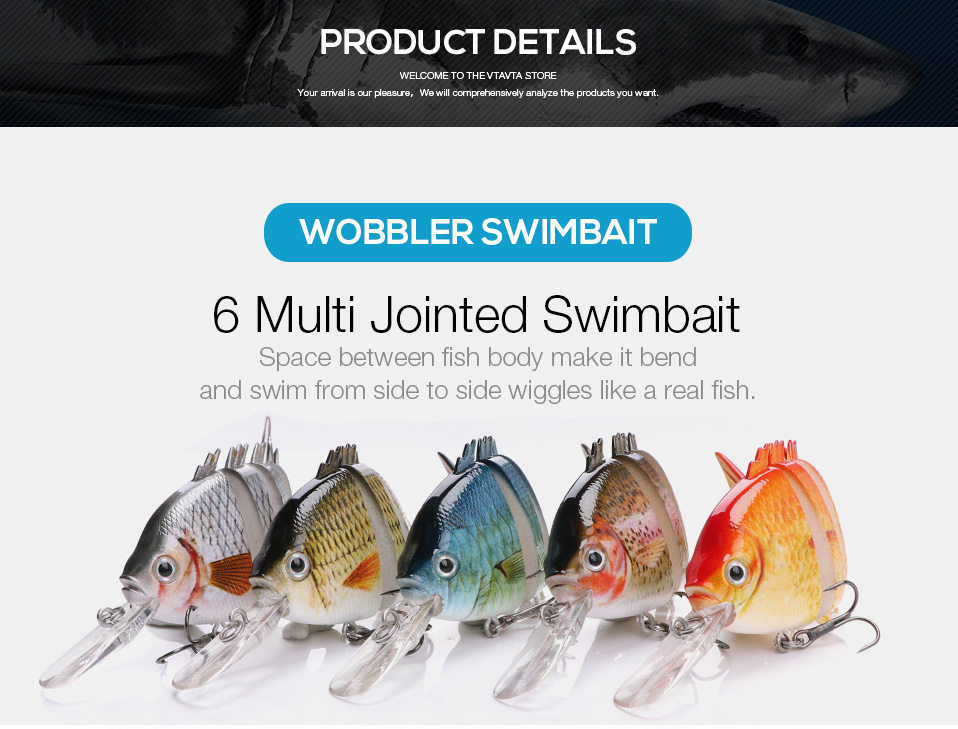 6 multi jointed swimbait
space between fish body make it bend and swim from side to side wiggles like a read fish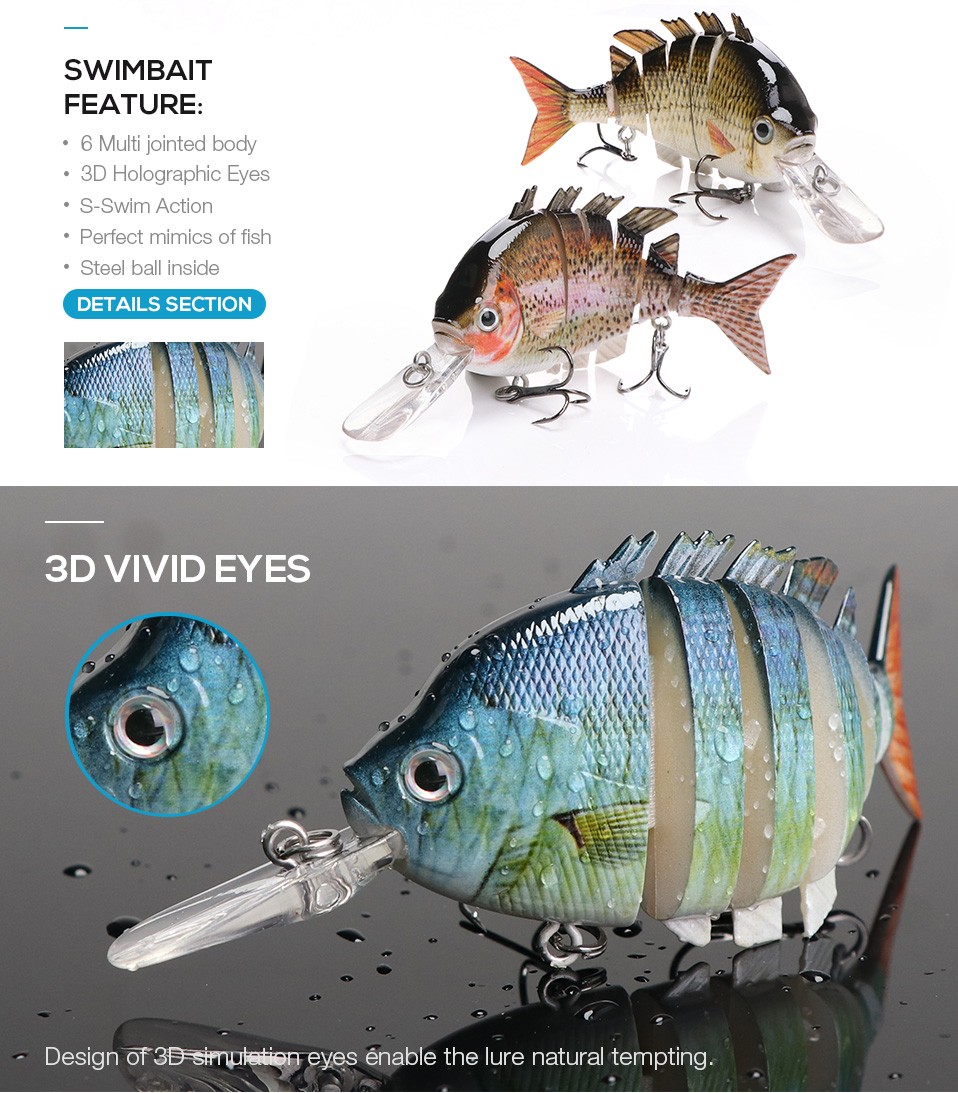 6 multi jointed body
3D holographic eyes
s-swim action
perfect mimics of fish
steel ball inside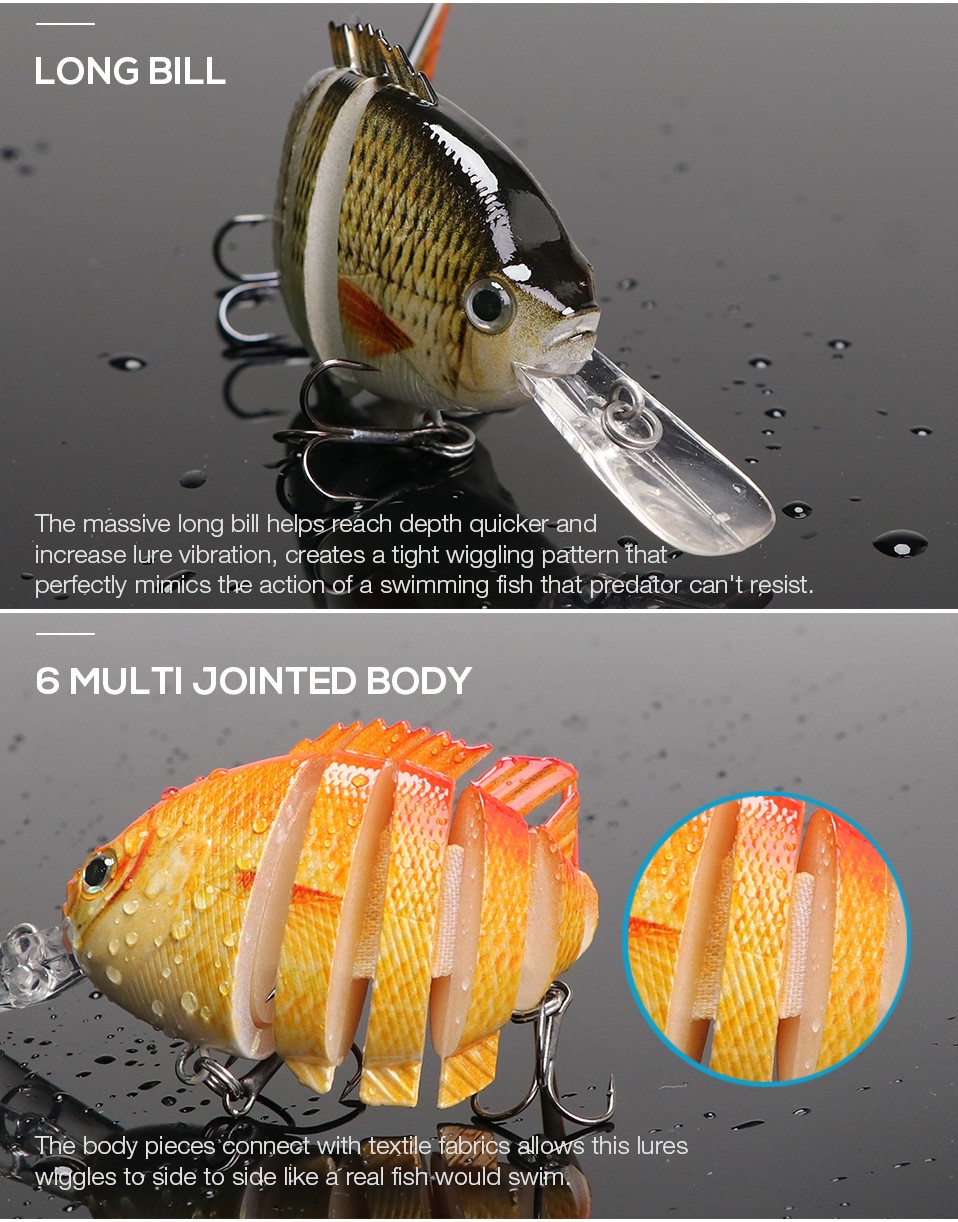 The massive long bill helps reach depth quicker and increase lure vibration, creates a tight wiggling pattern that perfectly mimics the action of a swimming fish that predator can not resist
The body pieces connect with textile fabrics allows this lures wiggles to side to side like a real fish would swim