China manufacturer 80mm 12g topwater lifelike abs hard plastic wholesale popper fishing lures bait
1.This popper lure is a top water walking bait with excellent balance for quick starting action around cover.
2.Lifelike Design: Brilliant colors and realistic crankbait with lifelike bait fish swimming action to attract fishes which can be used in both saltwater and freshwater.
3.Perfect swimmimg action is deadly attractive to fish.This kind of fishing lure shows a lively swimmimg action in water,With steel ball inside, the baits can stay steady during the casting and can increase the throw distance at the same time.
4.Super materials is extremely strong and durable,let you can use longer than ordinary lures.With 2 barbed treble hooks, very sharpened and durable.
5.Designed to provoke surface strikes with a water-pushing, popping action.proven action, tremendous finish, concave head, compact profile, and quality components.Vivid 3D eyes and lifelike scale patterns.Create lifelike swimming action to attract predators' attention.
6.Wonderful fishing accessories for fishing lovers.Great for fishing bass, yellow perch, walleye, pike, muskie, carp, roach, trout, etc.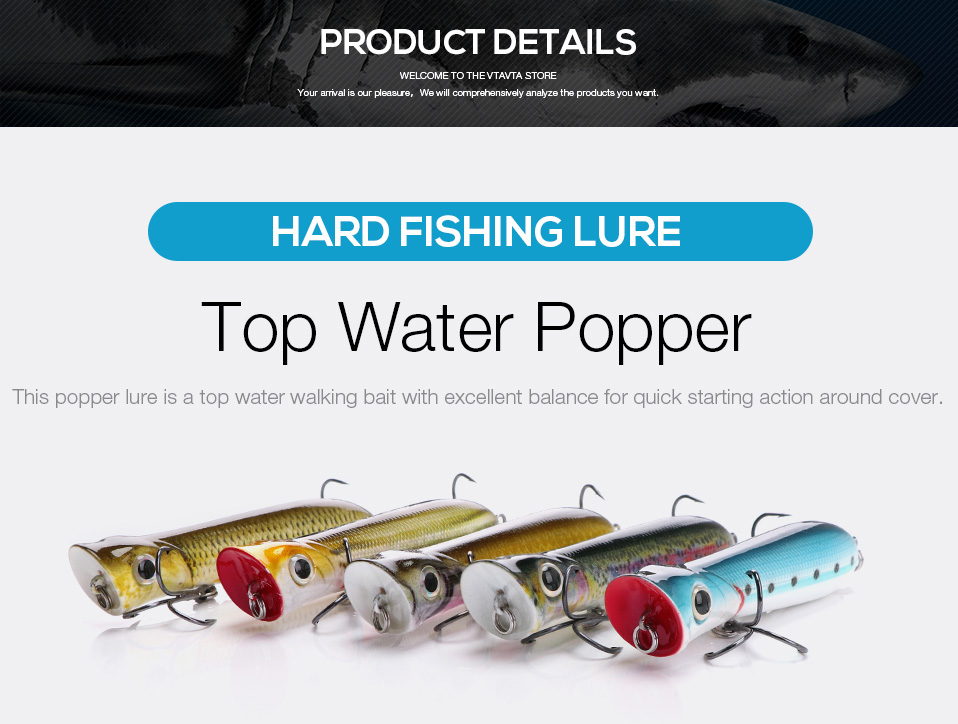 Hard fishing lure
Top water popper walking bait with excellent balance for quick starting action around around cover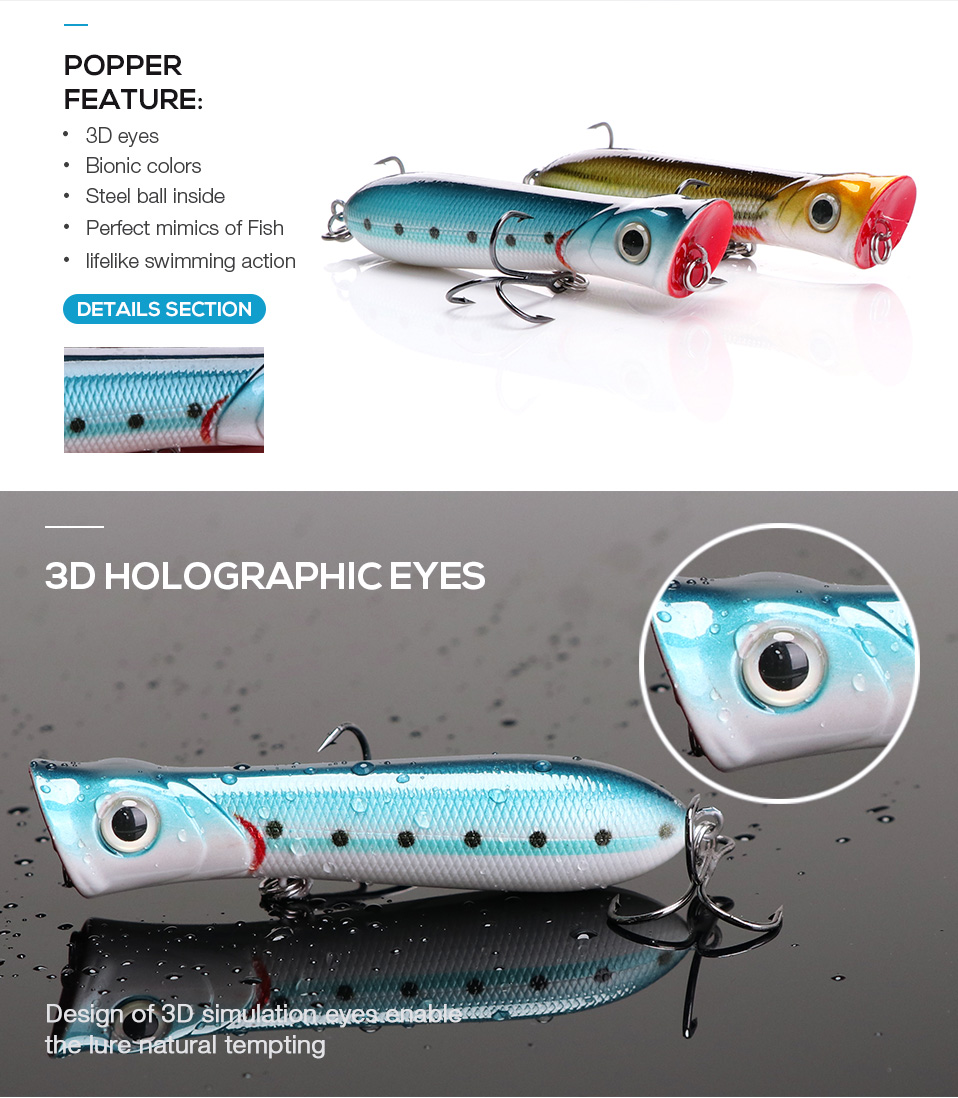 3D eyes bionic colors ,steel ball inside, perfect mimics of fish,lifelike swimming action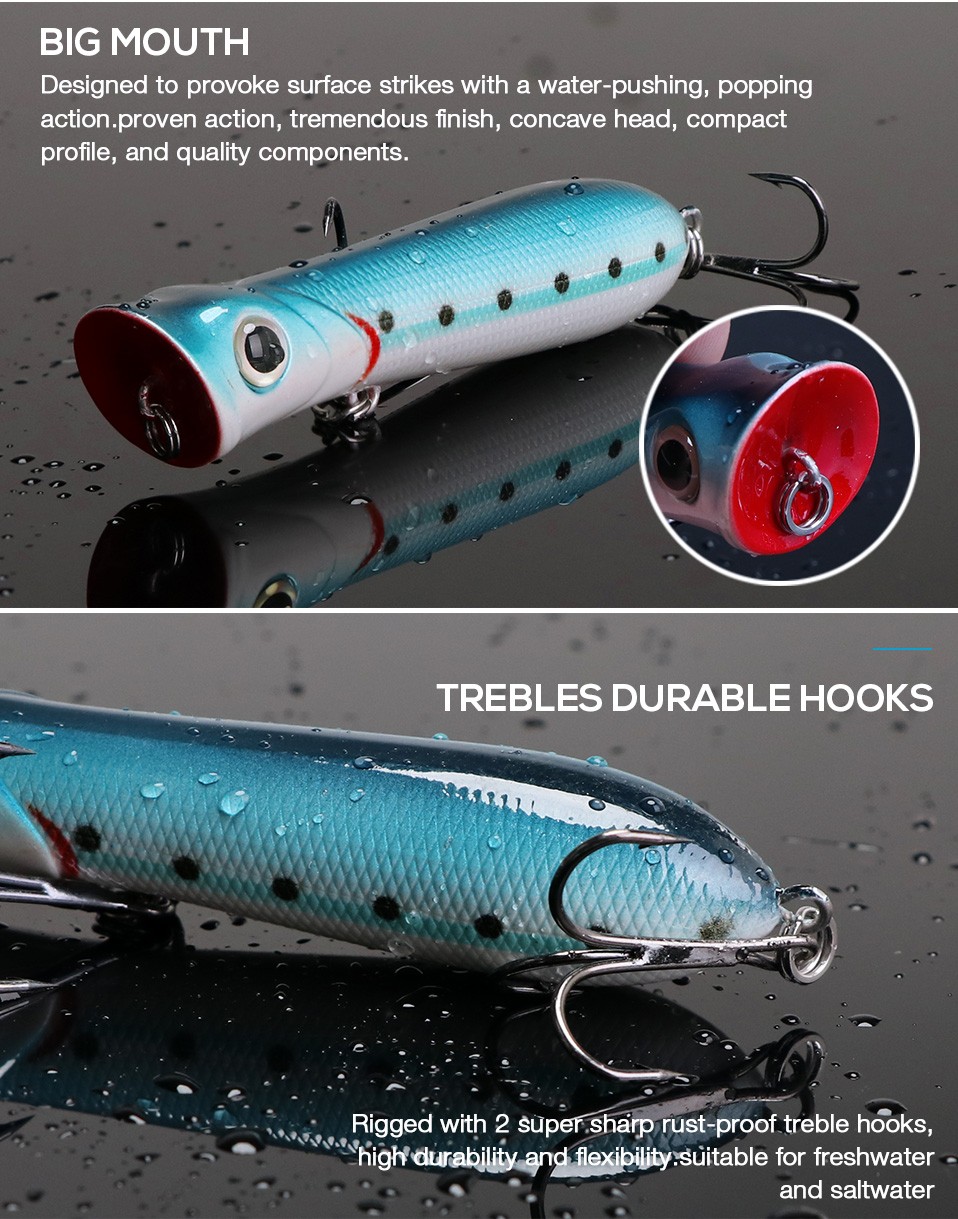 Big mouth
designed to provoke surface strikes with a water -pushing,popping action, proven action, tremendous finish,concave head, compact profile, and quality components
Trebles durable hooks
rigged with 2 super sharp rust-proof treble hooks,high durability and flexibility ,suitable for freshwater and saltwater