VTAVTA Whopper Plopper Rat Fishing Lures Minnow 9cm 13g Floating Wobblers for Pike Fishing Tackle Lure Mouse with Rotating Tail
Product Details:
Brand: VTAVTA
Diving depth: topwater
Hook: #6 hook
Material: ABS Plastic
Package List:1 * Whopper Plopper Fishing Lure
Product Features:
1.RAT Whopper Plopper:Rapid or steady retrieve the tail, causing the whole bait to spin, create waves on the water.Widely attracting the attention of predators to attack it.
2.It casts a mile so it's great for combing large flats or expanses ,tuning in the most productive speeds and rhythm of the particular day, a particular fish that might be following or one that's just watching other top water lures go by.
3.Speed it up and it throws water like a swamp buggy and has the same deep, hollow, whopper-plopping-fish-catching sound of the original!
4.This bait with lure appearance looks attractive and unique.Like a rat walking on the top water to attract predators' attention.(Please check the video)
5.The Hooks are made up of professional high strength material. It can bear strong tension strength.The tail is perfectly tuned out of the box, is flexible and stays perfectly tuned forever.
6.Stainless steel balls inside,tungsten Steel weight to keep reasonable balance,for the furthest distance casting. These lures targets fish in upper water, including Musky, Pike,Bass, Walleye, Redfish, Yellow Perch and Speckled Trout, etc.

Rat whopper plopper
Lure Type: Whopper Plopper
Lure Weight: 13g/0.45oz
Lure Length: 9cm/3.54in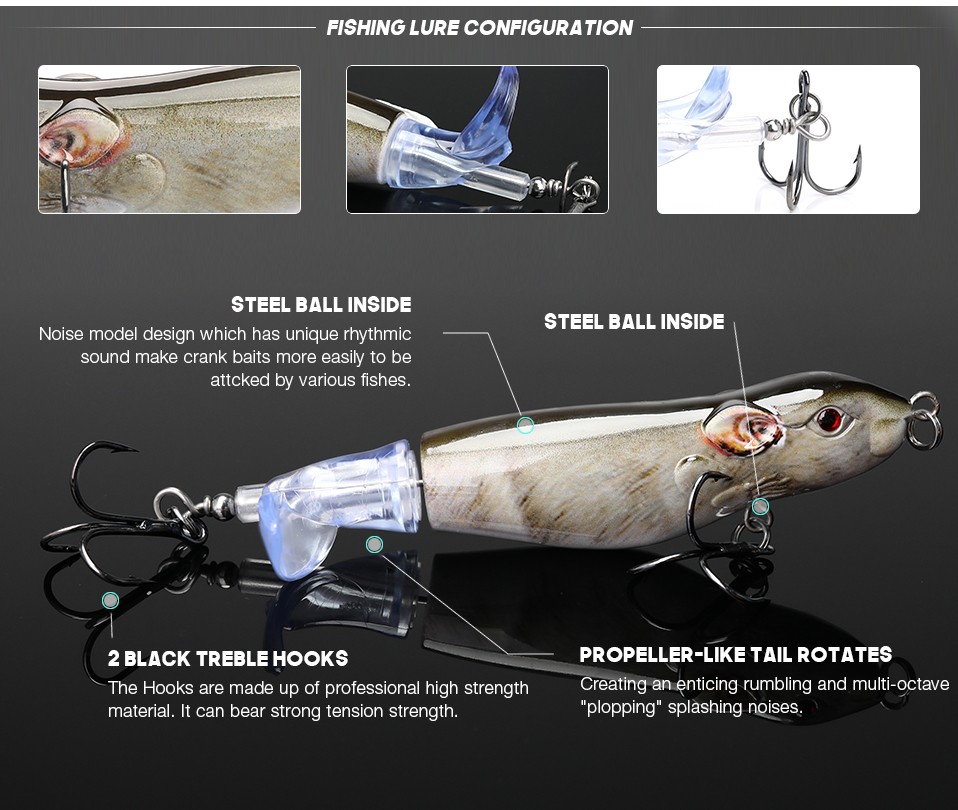 steel ball inside
2 black treble hooks
propeller like tail rotates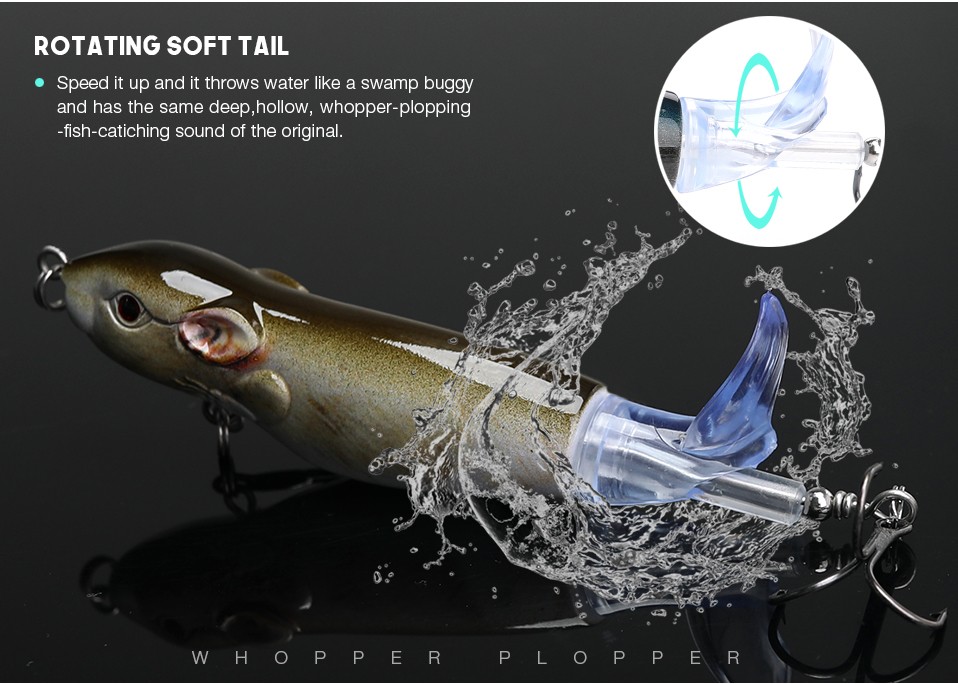 Rotating soft tail
speed it up and it throws water like a swamp buggy and has the same deep , hollow, whopper-plopping-fish-catching sound of the original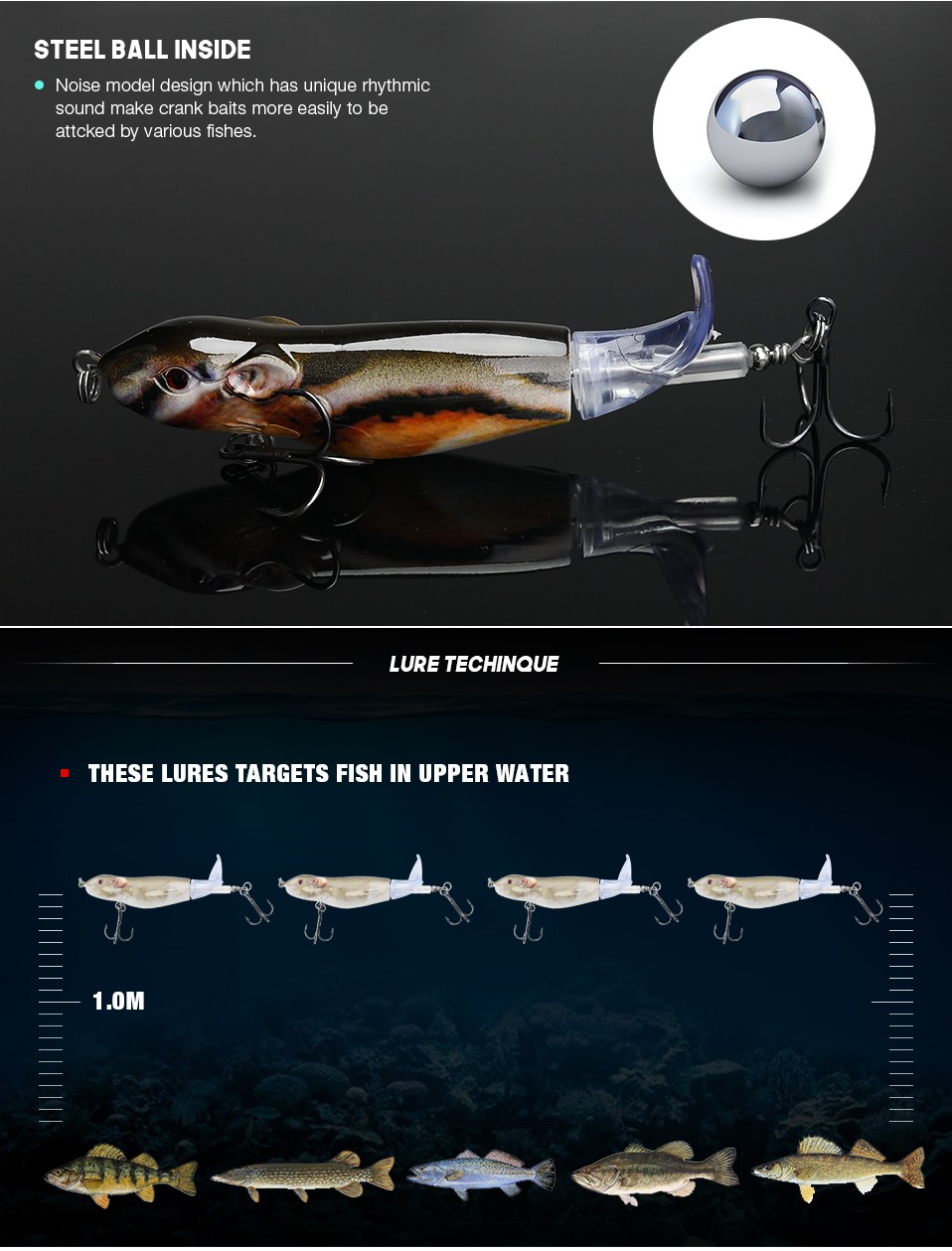 Steel ball inside
noise model design which has unique rhythmic sound make crank baits more easily to be attacked by various fishes